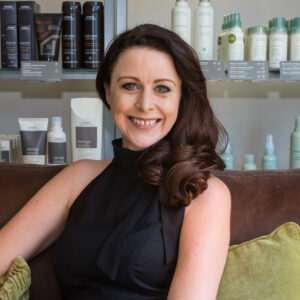 During 2004-2013 I set-up and co-owned my former salon  Escape Hair Sanctuary Ltd, whilst achieving NVQ Levels 2 and 3 in Hairdressing.  Following this venture I moved on to working with KeraStraight demonstrating and training Stylists in London and Essex.
In 2014 I brought my new experiences and new talents back to my roots in Witham and welcomed all guests to my new eco-salon, Cabello Hair and Beauty (UK) Ltd.  I am even lucky enough to bring 4 of my former Stylists along with me for the ride; Gemma, Jessica-Lara, Jessica and Laura.
During 2016/17 we have been improving the salon, adding new services, topping up our education and getting involved in some great community projects.  I look forward to pushing forward with some fabulous new ideas for the future and can't wait to show you.  In the meantime, I would love to hear your feedback, to make sure we are delivering superior service, so please feel free to e-mail, Facebook message or tweet me at any time.  You can even pop by for a chat or book in for a hair-cut/colour or KeraStraight treatment with me.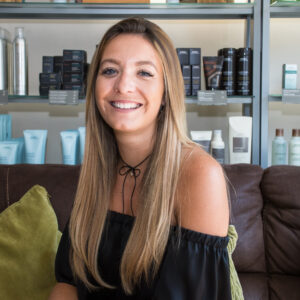 Gemma joined the team having worked alongside Kat and Laura for 2 years at Escape and then in 2013 worked with Lee Stafford at his Chelmsford salon.  Gemma has been hairdressing for 11 years and has achieved NVQ Levels 1, 2 and 3.  She has completed several courses; Hair-up with Patrick Cameron plus Redken Colour and AVEDA colour.  She also took a leading role in the Paul Mitchell Colour Challenge.
Since opening in 2014,  Gemma has been Cabello's lead Colourist and has been focussing her talents on new colour techniques Ombré and Balayage.  Gemma also has a great passion for micro and nano-ring hair extensions, and can transform any hair from a few partial extensions around the face to change your look – or a full head of long locks for a dramatic transformation – without the wait!
Gemma's Occaison Hair talents are 2nd to none, as she is one of our experts in bridal hair too…  and if that's not enough she is also proficient in Shellac nails for hands or feet!
….so if you're looking for a great up-do for a night out, some lengthy long locks, Shellac paint, hair colour change, style change or even just a trim, Gemma is the Stylist for you.
Gemma will be on maternity leave from 3rd March 2018 – however, she will be back with us for the Christmas period.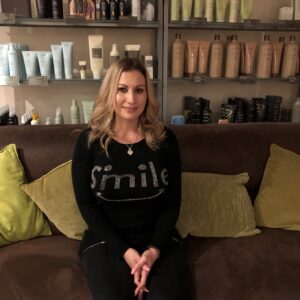 Jessica-Lara was one of the top Stylists working with Kat, Gemma, Laura and Jessica-May at Escape Hair Sanctuary.
Jessica-Lara has been working in Chelmsford for 6 years and we are so excited to see her back in Witham with us.
She is an expert on all things hair and there's not much the talented Jess can't do! – Cutting, Styling, extensions, hair-ups, highlights, Balayage – you name it – Your new Principal Designer's got it all.
Jessica-Lara absolutely loves colour, colour changes, re-styles and the classic 'round brush bouncy blow-out'.  So book now for a 'wow do'.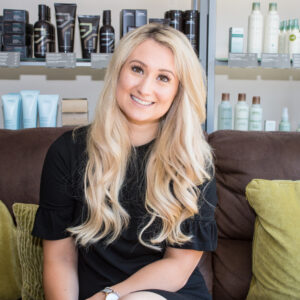 Jessica completed her Levels 2 and 3 at Silhouette du Barry, where she also won 2 hairdressing awards. Soon after, Jessica was involved in photoshoot session styling for Avant Garde and vintage hair-up.
In 2011 she joined Kat, Gemma and Laura at Escape Hair Sanctuary and followed them to Cabello in 2014.
Jess specialises in colour correction, occasion hair and hair extensions – so book yourself with Jess for a dramatic new look.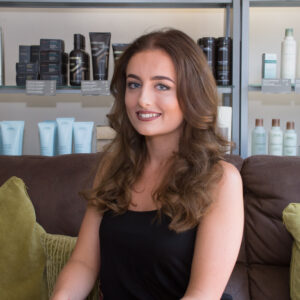 Laura qualified for her NVQ Level 2 during 2013 and joined Cabello from day 1.  She swiftly moved on to and passed her Level 3 during 2016.
Laura has been topping up her already honed-in core talent with Styling and colour theory courses, Balayage and contouring and men's hair at the AVEDA Institute, and Extensions with Balmain. –   Laura has achieved Creative Stylist level in only 3 years and was awarded The Most Talented Stylist 2017.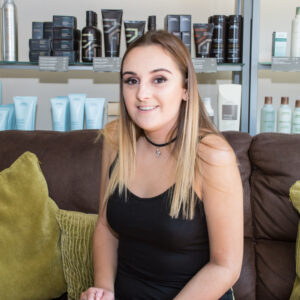 Danielle started her career in 2016 as a Saturday Assistant.  She quickly moved on to an Apprenticeship after leaving school.
Danielle is almost at the end of her NVQ Level 2 course and is expected to complete it soon before progressing to Level 3.
Danielle's primary talents are; Hair Styling, Occasion Hair and Extensions.  For such a young one, she is really making an impact in the salon world – keep an eye on this New Talent, the description is perfect for her.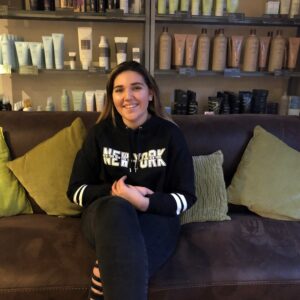 Amy  started her career in 2016 by completing her work experience at Cabello – we quickly snapped her up as our Saturday Assistant, while still at school, and  in June 2017 Amy successfully achieved her apprenticeship status.
Amy is in the early stages of her  NVQ Level 2 course and is enjoying getting to grips with her blow-drying skills.
Amy is the nucleus of the salon, as she supports the Stylists by ensuring they have all their tools at hand and the salon is clean and tidy plus she is a diva at hair washing and head massage.
Amy is the Queen of Customer Service, as she ensures our guests are happy and is hands-on when it comes to reception duties.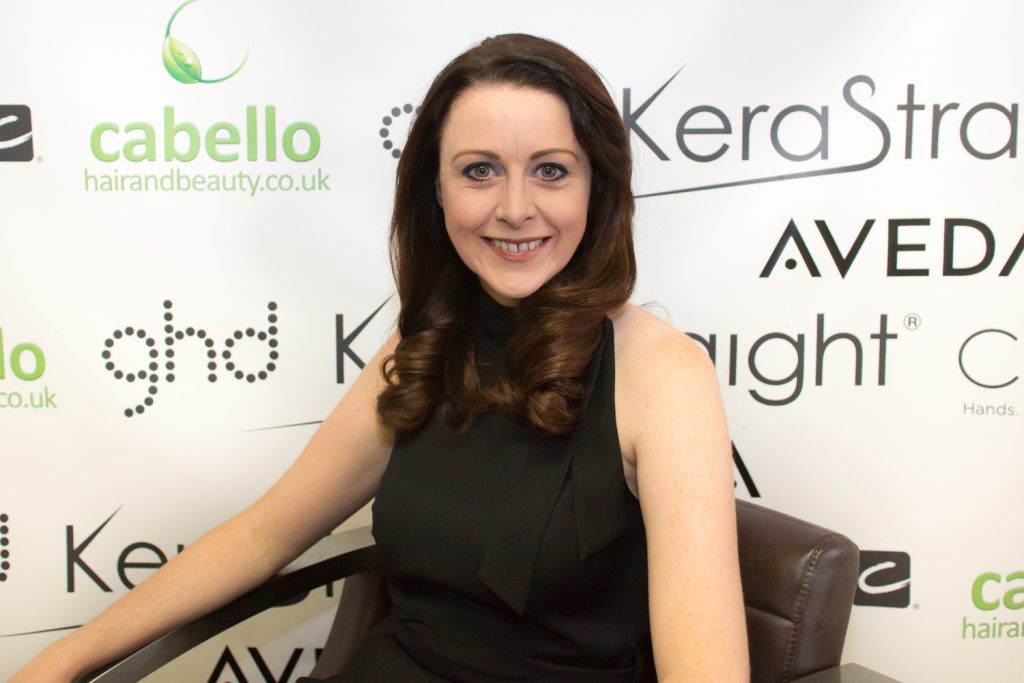 If you are interested in joining our team, with full support with the AVEDA institute, contact Kat, in confidence at info@cabellohairandbeauty.co.uk or 01376518641 or Private message via FB (Kathryn Berale) or via Cabello FB.
No AVEDA experience necessary, full technical and product training will be provided.