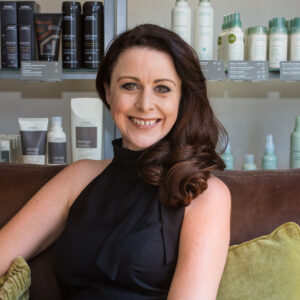 During 2004-2013 I set-up and co-owned my former salon  Escape Hair Sanctuary Ltd, whilst achieving NVQ Levels 2 and 3 in Hairdressing.  Following this venture I moved on to working with KeraStraight demonstrating and training Stylists in London and Essex.
In 2014 I brought my new experiences and new talents back to my roots in Witham and welcomed all guests to my new eco-salon, Cabello Hair and Beauty (UK) Ltd.  I am even lucky enough to bring 4 of my former Stylists along with me for the ride; Gemma, Sam, Jessica, Laura and our Assistant Emma.
Since opening,  we have been improving the salon, adding new services, topping up our education and getting involved in some great community projects.  I look forward to pushing forward with some fabulous new ideas for the future and can't wait to show you.  In the meantime, I would love to hear your feedback, to make sure we are delivering superior service, so please feel free to e-mail, Facebook message or tweet me at any time.  You can even pop by for a chat or book in for a hair-cut/colour or KeraStraight Blow-dry smoothing treatment with me.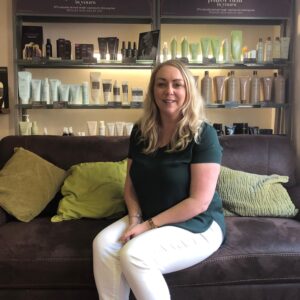 Sam, 
SALON MANAGER AND PRINCIPAL Designer, Salon Educator & Assessor
As The Salon Manager – Sam is in charge of the day-to-day running of the salon.  She works with our team to bring you top quality service at all times which includes all our HR activities, Training and ensuring we have the latest techniques, tools and AVEDA haircare to do so.
Sam makes sure we are up-to-date with our eco-friendly mission by adding new services and products, while focusing on reducing waste and being green.
As a Stylist – Sam has been in Hairdressing since 2000, having completed her Apprenticeship with AVEDA at Options in Chelmsford.  In 2005, she moved on to a Senior Stylist position with Kat at Escape Hair Sanctuary, as her lead Stylist and Educator where she remained for 8 years. – We thought it was about time she re-joined her team mates Kat, Gemma, Laura, Jessica and Emma.
Sam has attended many colour and advanced cutting courses, including L'Oréal Colour Keys,  Redken Styling and AVEDA Balayage and Freehand Techniques. Sam passed her KeraStraight exams in 2018 and completed a course in August 2019 in Micro-ring and Micro-weft Extensions.
In 2008 Sam passed her Assessors Award and spent many years training Stylists, and will continue to do so at Cabello – Sam will be hot on the tails of our New Talent and our Assistants to ensure they are trained to our extremely high standard of hairdressing and will be assessing and signing off their final cuts and colour services.
Sam as a Stylist absolutely loves her highlights and definitely wins an award for the neatest foils!  So for a colour change, blow dry or ultimate style change, book now with Sam.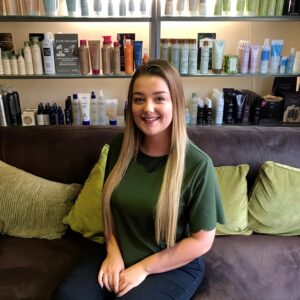 As the Cabello Guest Relations Manager, Chantelle looks after all of your needs.  This includes looking after you in salon and ensuring a single point of contact for your appointments by phone/email/social media.  – She also heads up our AVEDA Loyalty Card, adding  points to your account and securing you freebies throughout the year.
If you would like to contact Chantelle directly or have any feedback for us, please email her at Guestrelations@cabellohairandbeauty.co.uk or Appointments@cabellohairandbeauty.co.uk
As a Stylist –  Chantelle has been working in salons since 2014 and has passed both her Level 2 and Advanced Level 3 in Hairdressing.
In a previous role she  completed a Redken certified Balayage Consultant course in Dublin.  Since joining us she has passed her exams in KeraStraight, attended AVEDA Balayage and Freehand techniques and in August 2019 Micro-ring and Micro-weft Extensions.
Along with her Balayage skills, Chantelle absolutely loves Men's hair and Big Bouncy Blow-dries.   Book yourself with Chantelle, who during her 1 year with us, has really made an impact.
Gemma,  PRINCIPAL Designer,
Gemma joined the team having worked alongside us for 2 years at Escape and then in 2013 worked with Lee Stafford at his Chelmsford salon.  Gemma has been hairdressing for 11 years and has achieved NVQ Levels 1, 2 and 3.  She has completed several courses; Hair-up with Patrick Cameron plus Redken Colour and AVEDA colour.  She also took a leading role in the Paul Mitchell Colour Challenge.
Since opening in 2014,  Gemma has been Cabello's lead Colourist and has been focussing her talents on new colour techniques Ombré and Balayage.  Gemma also has a great passion for micro and nano-ring hair extensions, and can transform any hair from a few partial extensions around the face to change your look – or a full head of long locks for a dramatic transformation – without the wait!
Gemma's Occaison Hair and blow drying talents are 2nd to none, as she is one of our experts in bridal hair too…  and if that's not enough she is also proficient in Shellac nails for hands or feet!
….so if you're looking for a great up-do for a night out, some lengthy long locks, Shellac paint, hair colour change, style change or even just a trim, Gemma is the Stylist for you.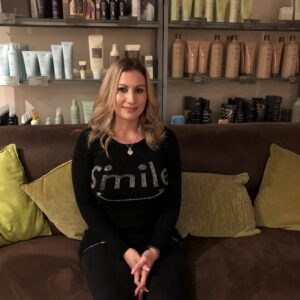 Jessica was one of the top Stylists working with Kat, Gemma,  Sam, Laura and Emma at Escape Hair Sanctuary.
Jessica has been working in Chelmsford for 6 years and we are so excited to see her back in Witham with us.
She is an expert on all things hair and there's not much the talented Jess can't do! – Cutting, Styling, extensions, hair-ups, highlights, Balayage – you name it – Your new Principal Designer's got it all. – She even won Most Talented Stylist Award 2018, having worked with us in under a year.
Jessica absolutely loves colour, colour changes, re-styles, blow drying including the classic 'round brush bouncy blow-out'.  So book now for a 'wow do'.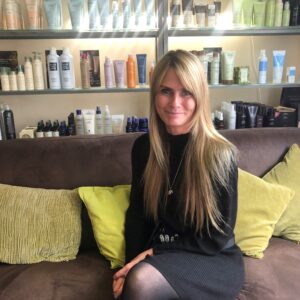 Becky has over 15 years experience in the industry. She holds her Level 3 qualification AND her Assessors/Teaching Award.
Becky works every Saturday at Cabello, as she uses the rest of the week to teach and assess budding new talent in salons across Essex.
She has been heavily involved in competition work and has attended many courses; Tigi, Wahl, Sassoon to name but a few – and if that's not enough, Becky has also achieved Diplomas in L'Oréal Colour Change AND Colour Keys.
Becky's talents include, all cutting, styling, hair-up, blow drying, perming and all colour techniques – So book for a great new colour, cut or hair-up with Becky on any Saturday.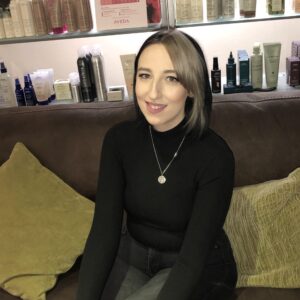 Dee has been hairdressing for 9 years now, having trained at Mack and more recently worked with Rush salon group.
She has course qualifications in NVQ Level 2 and 3 plus Balmain and Raccoon extensions.  She has trained in Colour Correction with Schwarzkopf and Bridal Hair up.  Dee is a regional winner at an Avant Guarde competition she entered in  2013 – Dee was even flown out to do wedding hair in Washington and Seattle.
Dee has honed her skills in short hair, long hair, colour, extensions, bouncy blow drying pro, hair up, brides – you name it.. You don't have to take our word for it, just check out her Balayage skills  on Facebook and Instagram in the short time she has been with us!
Dee has recently moved to Witham and looks forward to making new friends and welcoming all guests to the salon.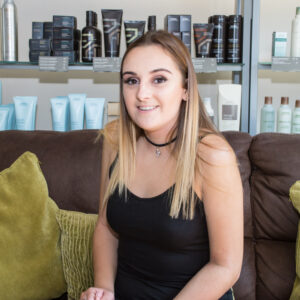 Danielle started her career in 2016 as a Cabello Saturday Assistant.  She quickly moved on to an Apprenticeship after leaving school, and is now a fully qualified Advanced Stylist.
Danielle completed her NVQ Level 2 course in April 2018.  She attended her Advanced Balayage course at JET Hairdressing in May 2018, and AVEDA Men's hair in June 2019.  She has recently completed her advanced Level 3 course in November 2019 and passed with flying colours.
Danielle's primary talents are; Hair Styling, Occasion Hair,  Balayage and Extensions.  For such a young one, she is really making an impact in the salon world and has built a very busy column already.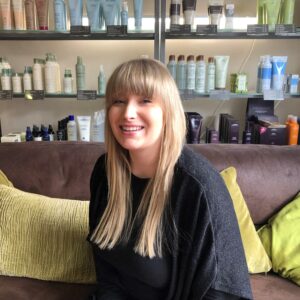 Emma re-joined the Team, having worked as a Saturday Assistant 10 years ago at Escape Hair Sanctuary, when she was just 14.  She has re-joined Kat and the girls to get her new career in hair re-started, and we couldn't be happier with her super fast kick start.
Emma is the nucleus of the salon, as she supports the Stylists by ensuring they have all their tools at hand and the salon is clean and tidy.   She is the Queen of Customer Service, as she ensures our guests are happy and is hands-on when it comes to reception duties.
Emma is flying through her level 2, smashing her test scores and amazing her mentors with raw talent and dedication.
You only need to try out her massaging skills to know Emma is one to watch in the future.
Emma is already honing her cutting, blow drying and colouring skills, so book yourself with Emma at our Training nights every other Tuesday (except December) 2-6pm.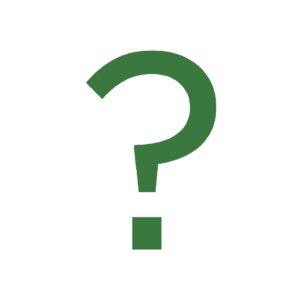 This could be YOU!
Are you ready to be part of a busy and buzzy salon, and work with a great fun team?
We are looking for experienced Stylists to join us.
Part-time OR Full-time – hours to suit your lifestyle.  Full AVEDA training will be given, NVQ Level 2/3 is essential.
Contact Kat in confidence today at info@cabellohairandbeauty.co.uk or via facebook.
If you are interested in joining our team, with full support with the AVEDA institute, contact Kat, in confidence at info@cabellohairandbeauty.co.uk or 01376518641 or Private message via FB (Kathryn Berale) or via Cabello FB.
No AVEDA experience necessary, full technical and product training will be provided.